Yoga
Why yoga?
Types of yoga for good body posture
1. Ashtanga yoga
2. Power yoga
Yoga– Meaning to unite.
Your likes, dislikes, and perspectives have undoubtedly changed over time—and, though you may not realize all the ways, so has your body.
Yoga activates the energy chakras and provides strength to women to deal with their physiological and psychological changes. Apart from it, Yoga is best when it comes to getting a toned body with good posture.
There are two styles of yoga that help tone muscles and build strength:
What is Ashtanga Yoga?
In Sanskrit, ashtanga means eight-limbed (asta– eight, anga– limb). Ashtanga Yoga is an eight-limbed path towards achieving the state of Yoga, also known as Samadhi.
Ashtanga is a very dynamic and athletic form of hatha yoga, made up of six series of levels, with a fixed order of postures. 
Ashtanga yoga is considered the most physically endured form of yoga. It involves a series of movements taking more than an hour to complete.
Ashtanga yoga focuses on muscle training and strengthening.
Practicing it regularly rejuvenates the entire body, makes body muscles stronger and toned, and ensures more flexibility, control, and balance in the body.
Lots of ashtanga yoga sequences require core and arm strength.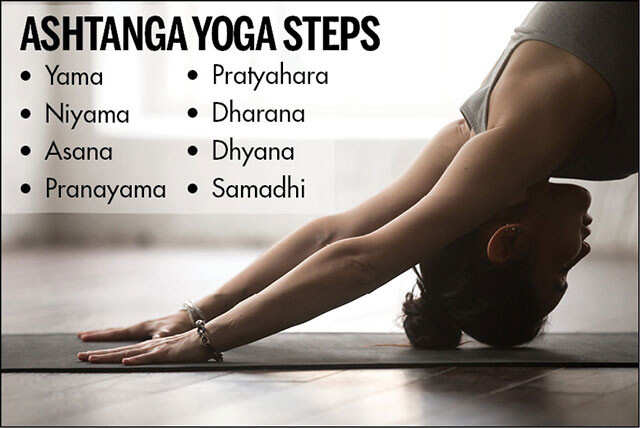 Power yoga is a general term used to describe a vigorous, fitness-based approach to vinyasa-style yoga.
Though many consider power yoga to be superficial "gym yoga," this style of yoga practice was originally closely modeled on the Ashtanga method.
Beginners can certainly try power yoga, but is power yoga for beginners?
It is not going to be for everyone. Some instructors will run through the asanas and speak in Sanskrit. Many beginners would feel more comfortable in a slower-paced class where the instructor can talk through each pose.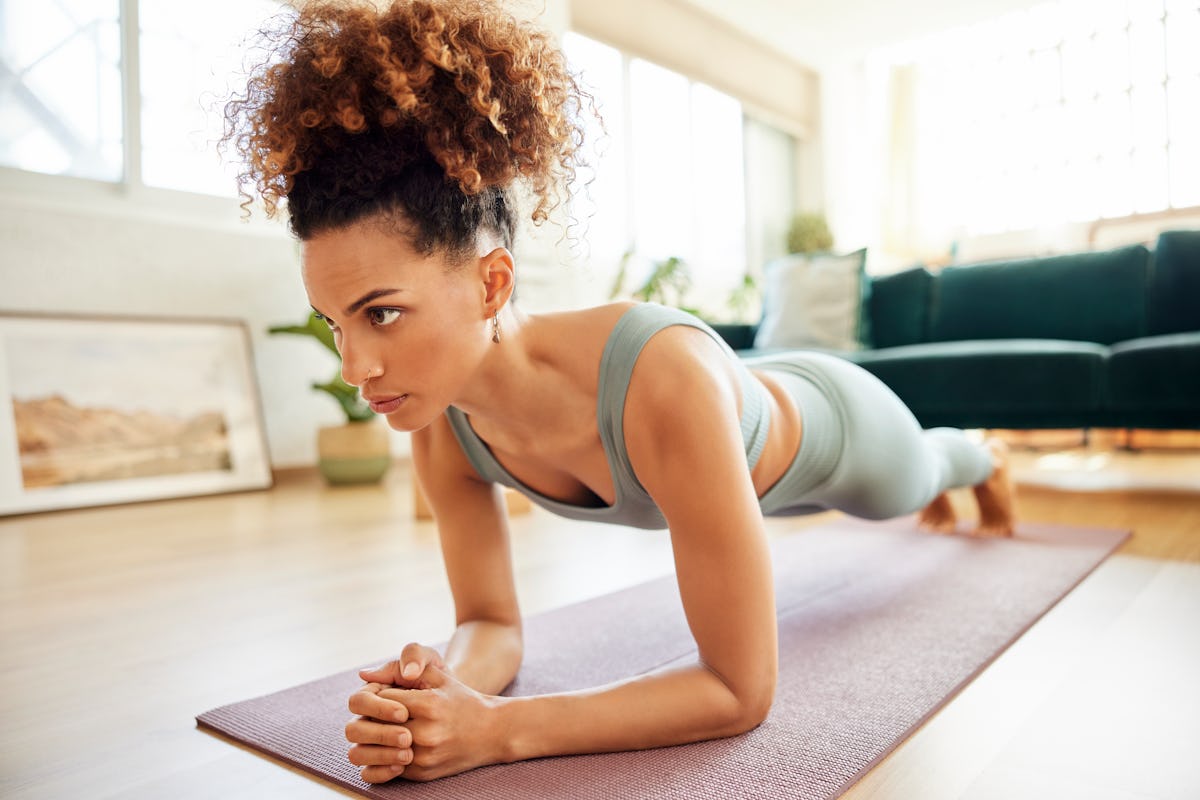 10 yoga poses to tone your body!
Chakrasana is often considered to reduce belly fat and increase the flexibility of the spine.
It is highly beneficial in reducing hair fall too.
Fresh oxygenated blood gets smoothly into the brain during its practice, providing suitable nutrients to the hair follicle.
It stimulates the thyroid and pituitary gland thus balancing the hormones.
Surya namaskara is termed the ultimate asana due to its high level of physical and mental benefits.
It is usually performed at the dawn but can be practiced at any time of the day.
It is generally performed at the beginning of the ashtanga yoga practice.
All the eight limbs are involved during the practice of Surya Namaskara especially the Ashtanga Namaskara- one of the sequences in a cycle of Surya Namaskara.
It is the standing variation from ashtanga yoga.
Along with breathing consequences, the Drishti involved in this pose plays a vital role.
Focusing the Drishti on the raised hand, and lowering it in subsequent steps helps you to improve your concentration.
It stretches the spine, tones the back, and opens the hips and chest.
Regular practice gives a holistic understanding of your body, mind, senses, and breath in depth.
Though it is placed early in the Ashtanga sequence it is quite a tricky position.
It relieves the stiffness in the knees and tones the hips.
It improves respiratory health.
It helps increase the flexibility and strength of the body.
Dandasana involves all the eight limbs of your body.
It helps tone the core and abdominal muscles.
It improves the strength of the arms and legs.
It lengthens and stretches the spine and stimulates the nervous system.
It increases the body's resistance to back and hip injuries.
The largest muscle in the body is involved while practicing this pose.
It is recommended to hold the pose as long as you are comfortable.
The longer you hold the pose the more beneficial it is and more calories get burned.
One minute of holding this pose burns around 5-6 calories.
Parivritta Utkatasana is the rotated variation of this pose, strengthening the quads and gluteals.
Doing this pose with weight resistance can increase the number of calories burned.
This exercise tones the legs and arms.

Downward dog pose is a full-body stretch that has many benefits:

Stretches the lower body. The inversion of downward dog helps you get into position to stretch the hamstrings, calves, and ankles fully.
Strengthens the upper body. …
Stimulates blood flow. …
Improves posture. …
Fine-tunes your foot muscles.
This simple pose stretches the front of the body from the chin to the pelvic bone.
"Lift your tailbone to arch your back, allowing your stomach drop toward the floor, moving your shoulders away from your ears, and lifting your head," says Nicola Jane Hobbs, author of Yoga Gym and Thrive Through Yoga.
When combining this position with Cat Pose, exhale into Cat, then inhale into Cow.
It may alleviate low back pain and aid to prevent slouching and kyphosis (abnormal curvature of the spine).
The position stretches your abdominal, chest, and shoulder area while strengthening your back muscles, buttocks (glutes), thighs, and ankles.
The cow pose helps in stretching and lengthening the spine, glutes, and hamstrings.
Backbend Bitilasana (Cow Pose) is usually partnered with Marjaryasana (Cat Pose) at the start of a vinyasa flow to warm up your body—particularly your spine—for other postures.
Cow relaxes your upper body, particularly your back, shoulders, and neck, and it softly massages your spine to enhance mobility.

This simple pose provides a strong front-body stretch from the chin to the pubic bone.

"Lift your tailbone to arch your back, letting your stomach dangle toward the floor, moving your shoulders away from your ears, and lifting your head," says Yoga Gym and Thrive Through Yoga author Nicola Jane Hobbs.

When combining this pose with Cat Pose, go into Cat as you exhale, then into Cow as you inhale.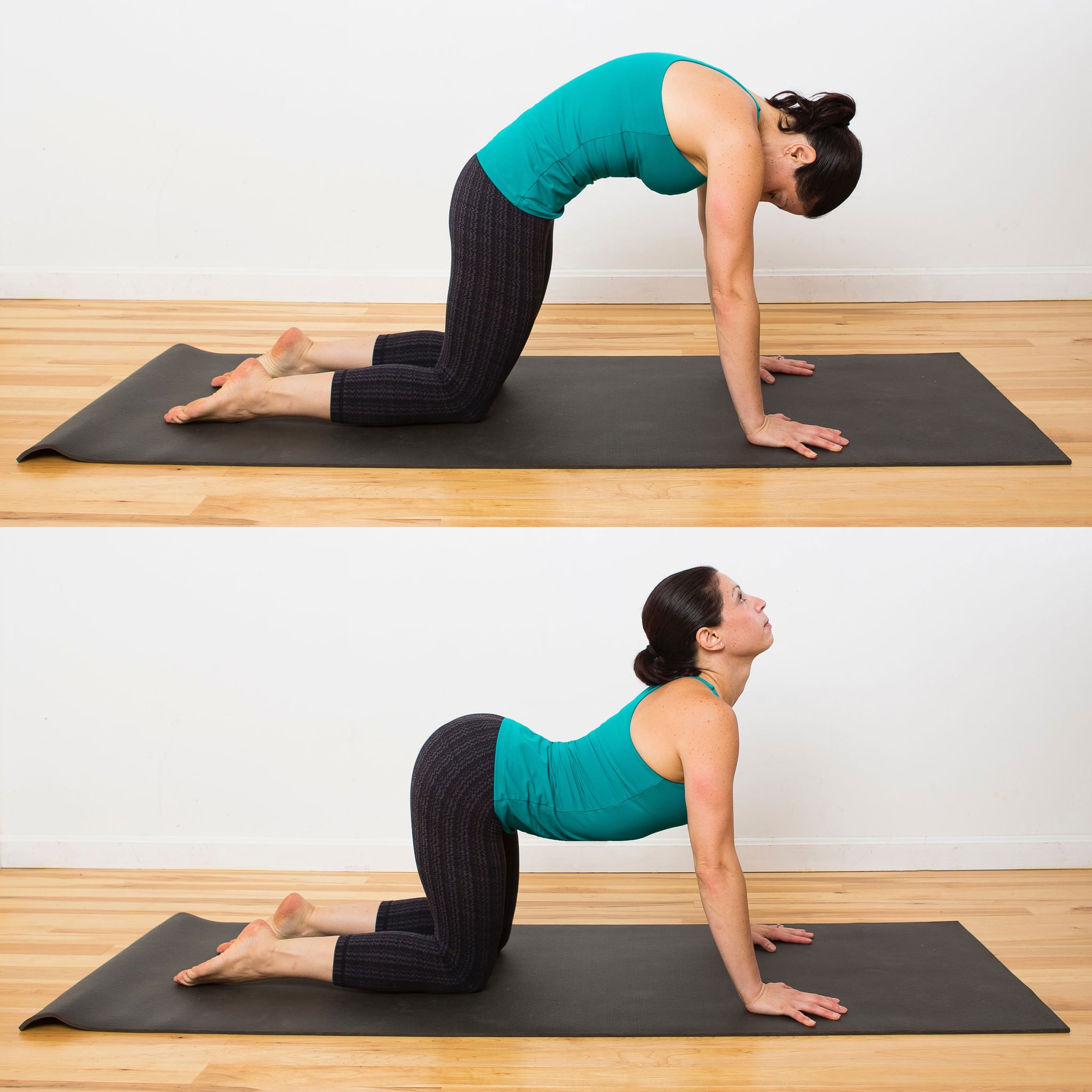 View this post on Instagram empowerment
-> Click here for more best yoga poses for girls