TOP 10 CARTOONS OF 2021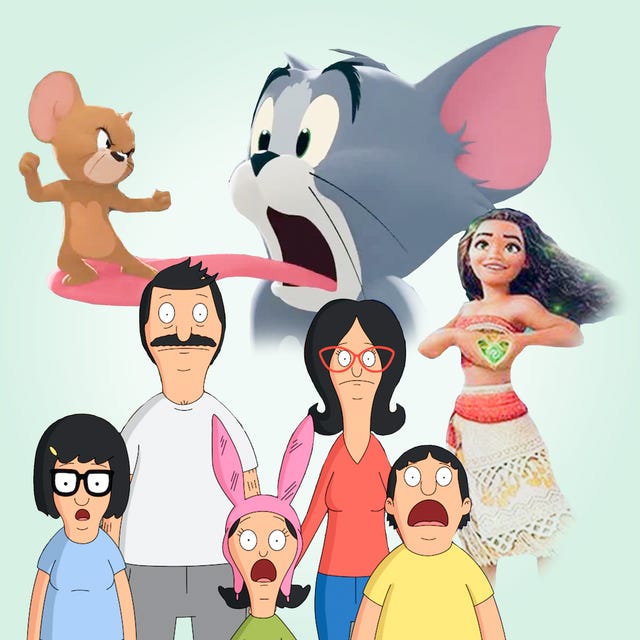 The most anticipated animated films of 2021 are for adults who want to feel like kids. Call them cartoons. Just don't count out this fantastic lineup of films in one of the film's coolest forms.
In 2021, the joyous tradition of Saturday-morning cartoons is still alive and well. The technology of animation is constantly improving, even if it might occasionally fall into the .uncanny valley area (looking at you, CATS). But, more often than not, animated films provide us with the one-of-a-kind gift of quirky depictions of our greatest fantasies. Given the situation of the world, we may want crazy, goofy, and beautiful cartoons now more than ever.
Fortunately, the animation business is perfectly positioned to thrive in these remote-working times, and we may expect to see an increase in animated features (for all ages!) in the future years. From the latest Space Jam film to Bob's Burgers: The Movie—and every cartoon adaptation in between—here are the ten most anticipated animated movie releases for 2021.
The world's most famous cartoon enemies return for a big screen game of cat-and-mouse. When Jerry takes up residence in a miniature suite (feat. AirPods he uses as speakers) at a fancy New York City hotel, Tom is hired to catch Jerry before he ruins an important wedding. A mix of live-action and computer animation, the film stars Chloë Grace Moretz, Michael Peña, Colin Jost, Rob Delaney, and Ken Jeong.
In this fantasy tale from the makers of Moana and Frozen, a teenage warrior named Raya must track down the last remaining dragon in order to restore peace to the realms of Kumandra. Raya is played by Kelly Marie Tran from The Last Jedi, and Sisu the Dragon is played by Awkwafina.
3.

SpongeBob 2: Sponge on the Run (Feb 2021)
The next SpongeBob movie has been repeatedly delayed, but fans in the United States will finally be able to view it this year via PVOD and CBS All Access, most likely in February. Our old Bikini Bottom pals will appear a little different thanks to 3D animation, but they'll still go on the same silly escapades we know and love. SpongeBob and Patrick must rescue Gary, who has been "snail-napped," in Sponge on the Run. Keanu Reeves makes an odd cameo as a wise'sage' tumbleweed who gives them advice on their voyage.
4

Peter Rabbit 2: The Runaway (April 2) 
The iconic James Corden-voiced rabbit is back for another round of filming. This sequel has Peter Rabbit and his furry friends running amok in the big city after they run away from home, attempt a farmer's market heist, and get tangled up with some nefarious individuals, starring Domhnall Gleeson and Rose Byrne in live-action roles as Thomas and Bea.
5. Bob's Burgers: The Movie (April 9)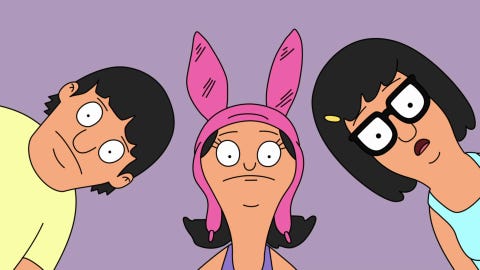 The Belchers, everyone's favorite burger-flipping weird family, will make their feature film debut this year in Bob's Burgers: The Movie. With no trailer yet available and few specifics available, all we know is that the film will include the original actors reprising their iconic roles and will "satisfy every itch the fans of the show have ever had," according to creator Loren Bouchard.
6

Rumble (May 14)
Monsters are renowned athletes fighting in Monster Wrestling in a world where giant monsters coexist with humans. Geraldine Viswanathan, from Blockers, plays Winnie, a human adolescent who teaches fluffy underdog monster Steve (Will Arnett) to rise to the top and dethrone the reigning champion, Tentacular (Terry Crews).
7

Minions: The Rise of Gru (July 2)
Who doesn't enjoy a classic villain origin story? In this sequel to the spin-off prequel to Despicable Me (we're lost, too), 12-year-old Felonious Gru wants to prove his worth to a bunch of supervillains by demonstrating exactly how bad he can be. If you or a loved one has been obsessed with the Minions, The Rise of Gru is sure to provide plenty of antics with the small, yellow, denim overall-wearing villains.
8
Space Jam 2: A New Legacy (July 16)
The long wait for the sequel to 1996's Space Jam will be over shortly. The new film will star LeBron James, Bugs Bunny, and the rest of the Looney Tunes gang as they dribble their way through a new virtual adventure that may or may not involve appearances by Warner Bros. villains such as Voldemort and Pennywise. As LeBron and his little kid, Bronny, are locked in a digital realm organized by an AI villain (Don Cheadle) and must play their way out, the crossover possibilities are boundless. LeBron called it a "parenting movie" since his character must come to terms with his son's genuine ambitions and talents, which differ from his own.
 9. The Addams Family 2 (Oct. 8)
They're spooky and bizarre, and they're back for more. The animated take on the classic gothic family will feature the same cast voicing the ghoulish characters (Chlo Grace Moretz, Charlize Theron, Nick Kroll, Bette Midler, Snoop Dogg, Oscar Isaac) and will be released this Halloween, when the world will hopefully'return to (ab)normal,' as the trailer says. Oh, and don't forget Bill Hader and Javon Walton.
10

Encanto (Nov. 24)
Disney's animated musical Encanto, with music by Lin Manuel-Miranda, is set in Colombia and revolves on a wonderful family. Miranda described it as a "intergenerational family story with all of the complexities that entails."